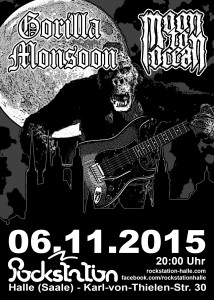 Anfang November gilt in Halle das -Law of the Riff- gehorcht dem satten Sound von Gorilla Monsoon oder leidet im Stillen.
Auch diese Band ist in Halle immer wieder gern gesehen. Im Grunde genommen kennt sie hier jeder (wer das nicht tut sollte sich schleunigst in die Ecke stellen und schämen), ob nun bei den Kollegen vom Rockpool beim Its only Rock oder in unseren heiligen Hallen, z.B. zu unserem 10 Jährigen, die Gorillas waren immer ein Garant für richtig gute Musik und super Stimmung.
Erst vor kurzem haben Sie mit Ihrem neuen Album -Firegod – Feeding the Beast- wieder ein Hammerteil abgeliefert und genau deswegen steht das Schmeckerchen auch in meinem Plattenschrank.
Man merkt es, ich bin nicht ganz Unvoreingenommen ;-)
Auch der zweite Bringer an diesem Abend hat sich gefreut wie Bolle mit den Jungs auftreten zu können. Die Rede ist von der hallischen Band -Moon to Ocean-. Mit Ihrer Mischung aus Melodic Death Metal, Black Metal und Hardcore sind sie musikalisch nicht weniger interessant als die Affen aus Dresden und lassen sich nach eigener Aussage auch nicht gerne in Schubladen stecken. Wer in Halle des öfteren in den rar gesäten Clubs unterwegs ist hat Sie sicher schon einmal gehört und weiß auf was er sich freuen kann. Alle anderen sollten auch hier die Chance wahrnehmen und sich diese Band anschauen es lohnt sich auf Jedenfall.
Lets do it for the Glory…