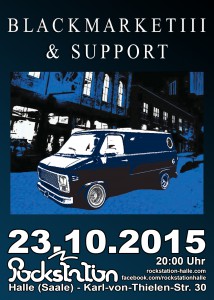 Und weiter gehts in unserer bunten Konzertreihe. Die Bude darf nicht kalt werden, deswegen gibts mit Black Market III wunderbaren Blues&Rock auf die Ohren.
Scottie Blinn dürfte einigen noch ein Begriff sein, denn er war mit den Mississippi Mudsharks schon mehr als einmal auf der Bühne der alten Rockstation und hat massig Spaß verbreitet. Nun hat er sich mit der Bassistin Roxy Coverdale zusammen getan um black Market III zu gründen. Sie bilden damit ein Crossover zwischen Blues und Rock&Roll. Die Musik bezeichnen viele als etwas das man noch nie gehört hat.
Mit im Gepäck haben die beiden ihr neues Album "Vanarchy". Dieses Album wurde für die 2015er San Diego Music Awards als Bestes Blues Album nominiert.
Die ein oder andere Hörprobe gibts wie immer auf der Website oder auf Facebook.
Website, Facebook
Als Support ebnen euch "Mark Taylor and the Bloody Butcher Boys" den Weg zum Schwarzmarkt. Aufgrund fehlender Internetpräsenz kann ich nur sagen: Lasst euch überraschen!